ALARMS
Alarm systems have changed a lot since we started installing them back in 1969. Have you seen all the commercials on TV from the big nationwide alarm, cable and cell phone companies showing people checking in on their homes with their Smartphones? Home Security Service can offer you the same thing! The newest systems we're installing today can give you the ability to control your security, lights, locks, heat, cameras and more from just about anywhere on your Smartphone or computer! Becoming Authorized Dealers with Alarm.com and NAPCO's iBridge Connected Home, we can turn any of our systems into a Smart Home controller. Click here for more info.
IQ Panel 2 Plus: Smart, safe, and powerful
The most recent panel we've decided to offer. Packed with many high-end features and compatibility.
Technology!
This new GC3 panel by 2GIG is packed with features! It can be used for a simple, easy to use wireless security system or you can use it to control your Smart Home with it's built-in Z-Wave+ controller. Turn on lights, lock your doors, open/close your garage doors and adjust your thermostats all on this 7" touch screen keypad. Plus with Alarm.com's Interactive Services, you can do it all on the go with your smartphone!
Now-a-days there's dozens of manufactures of alarm systems. We at HSS have seen and heard about most of them but only install a few of the brands. This is because we spend time getting to know everything about the systems we offer. They're a lot more than a pretty keypad on a wall - the operation, ease of use, reliability, flexibility and longevity are all important to us. As well as the choices of compatible alarm sensors. The systems we install, in our opinion, are the best out there. Our top choices in panel brands are Qolsys, Interlogix, 2GIG & NAPCO.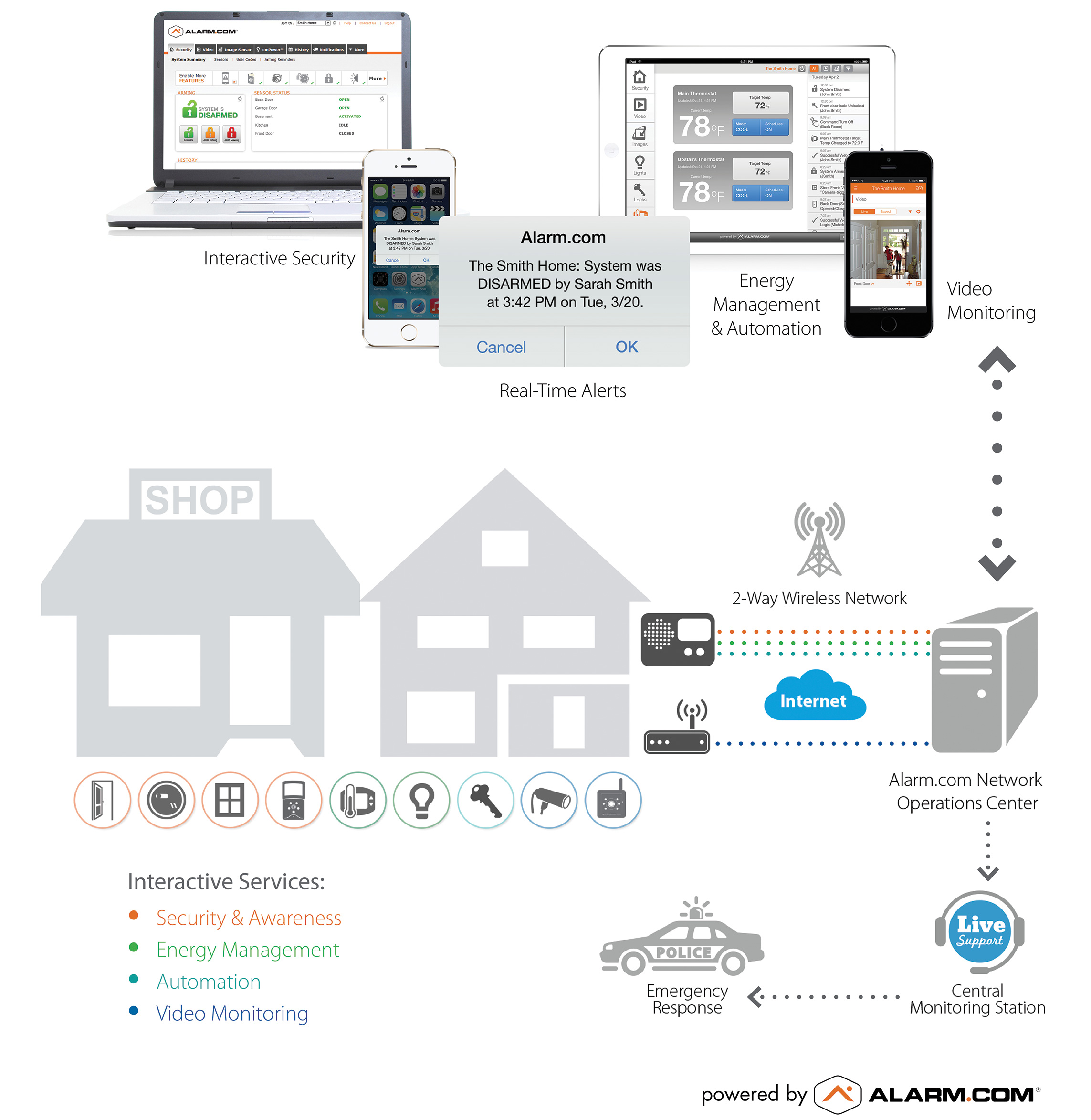 iBridge Connected Home is an optional online remote service to add-on to your Napco security system. The iBridge zRemote Module connects your security system to your homes internet connection allowing it to be controlled on site with an optional 7" Portable iBridge Tablet, remotely by using the free iBridge mobile app on a Smartphone, Tablet (available on iTunes or Google Play) or on a internet connected PC . iBridge can give you the ability to arm, disarm and reset your security system from anywhere. With iBridge Messenger, you can receive email and text alerts of alarms, troubles and tripped zones. iBridge can also integrate with an iSeeVideo surveillance system so both can be used and viewed on the iBridge App. The best part about iBridge is the Z-Wave technology! Z-Wave is a wireless technology that makes regular household products, like lights, door locks and thermostats "smart". Z-Wave products "talk" to each other wirelessly and securely and can be accessed and controlled with your iBridge system on your Smartphone, Tablet or PC. Several top manufactures like GE, Jasco, Honeywell, Kwikset, Leviton, Schalge and hundreds more make Z-Wave devices. Some of the most common Z-Wave devices are plug-in lamp or appliance modules, light switches, thermostats, door locks, and wall receptacles. Have the ability to watch over and control your entire house from anywhere, at anytime with an iBridge Connected Home.